Gennady Gennadievich Turetsky born in Leningrad (USSR) on July 17th. Master of Sport in swimming, he swam for the Sporting Club of Army (SKA) of Leningrad in the 1967-1972. In coaching since 1973, has a title of honoured coach of the USSR. He organized and headed the Swimming Centre in Samara. He was Soviet national team's coach from 1979, coach of United Team at the Olympiade-1992. He prepared many outstanding aquatic athletes, among them winners of the Championships of the USSR, Europe, World and Olympic Games. Several generations of swimmers from different countries and continents and had and fortunately have the opportunity to work with this outstanding teacher. The success of domestic masters of water lines, as Inna Abramova, Benjamin Tatyanovich, Vladimir Pyshnenko, Gennady Prigoda, Yuri Mukchin, Alexander Popov, Antoine Galavtine and other illustrious swimmers allowed Turetsky to enter to the rank of great coaches in the World and made him one of the most sought-after specialists in international swimming. He worked in the Australian Institute of Sport (Canberra) and heads the men's National team of the Green continent. Upon his return to Europe, for six years he was a chef of the Swiss National swim team. Intellectual and erudite, professional of highest level, captivating by his human qualities, Turetsky become a living legend, so called, «walking Bible» of coaching wisdom. In love with his trainees, he won their hearts with sincere attitude and a desire to help their wards. In one of his interviews 4-times Olympic champion Alexander Popov asked the question, what could explain his brilliant success — perseverance, talent and skill of his coach? "Basically, — said the famous swimmer – all those three components help to the success of any athlete. But, of course, I am very lucky to have a uncial coach, quite different from all specialists, that I know in the World."
Dmitry Volkov inquires Gennady Turetsky:
What is the secret of the profession of coach?
I think that the secret of the profession of coach in the penetration into the world of the athlete in order to guide him inside. It is believed, that the meaning of pedagogical activity is the ability to influence the pupil in the right direction, that is, in the direction of achieving the result, determining his way of thinking and living. This ability distinguishes all successful coaches. There are different definitions ranking from Sergei Waitcekovsky in Soviet Union to Don Talbot in Australia. For example, Talbot says the following about the talent of sports' teacher: «I do not care what series it gives the trainees, I was interesting about the extent of his influence.» Sometimes the coach achieves results not by revolution in the methods of the intensification of training, but with the help of this magical influence. Call it charisma or whatever, but, in my opinion, is the ability to self-giving. Coach in swimming used to manage small thing and this is his fate. I can say that this profession is a profession of aristocrats. Those aristocrats, their activities, it arts, sciences or something else, would be subsidized by the State and would allow them not to think about money. That is, this profession does not put before man the goal of large earnings and in this aspect is really aristocratic by its nature. Therefore, combining business and coaching profession is quite difficult: this completely different way of thinking. While at the present time with a certain approach, that takes into account management system, that is, process control, on the one hand, making money, and on the other hand — movement in the right direction, it is rather possible. State support for sport is crucial for its development. Private clubs, of course, are helping preparation of a certain contingent. But, for example, swimming is a sport, where the stadiums and in the advertising is not going to the big box office, and therefore the task of training of elite's swimmers, but it is expensive, can't be addressed here.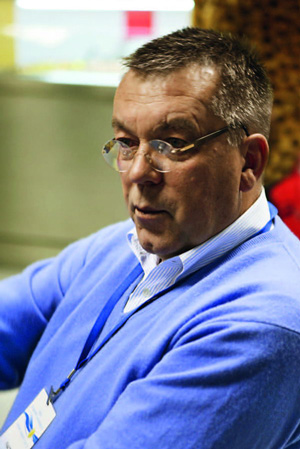 If the coach affects the athlete, whether he is working on his personality?
Coach usually held personality with experiences in various fields. Therefore, we can change the direction of the answer. The first thing he should be able to do, it does not hesitate to be a self-mime. For example, here is a man with a whistle around his neck, another in a cap and with a stopwatch. If the coach will copy the manners and the image of someone, he will never alone get a success. Personal creative individuality and its development help to achieve maximum results. Many creative people in the early stages of his career, someone copied, it can be anywhere, in any professions. It is not so bad, and I do applaud, when young trainers copy some of the training programs, which for many years of practice have proved their worth. But it should not be related to issues of personal realization, here it is impossible to copy, it important to save within himself.
What is more in this profession — methodology that is a purely technical action, or philosophy — the endless pursuit of perfection?
You can't just like that answer the question. There are, for example, coaches-engineers. They have all the moves recorded, and all laid out on shelves. There is another character, coaches-artists. I know some of them, even received special education in his time, as Michael Bott from USA. For such people the most important thing is to create an atmosphere, when the athlete begins to manifest him-self. One use didactic tone in dealing with his disciples and others prone to familiarity. What can I say, when we deal with people, not only different in nature, but also from different generations. One can be 20-23 years old, and the other — more than 80 years. One of the youngest Olympic champions — John Conrads — succeeded in fifteen years, but the most interesting is that his personal coach at that time was nineteen-years-old man. It is known, that usually old coaches are very successful. American Kaunsilmen, Australian Kenwood continued to achieve outstanding results in their pupils, when they were of 70 or even 80 years-old. Or, for example, Soviet specialist Alexei Fedorovich Krasikov, when he was already 60 years deeply, constantly appeared talented and successful sportsmen. Once I myself became interested in this phenomenon and asked the opinion of several athletes. And they tell me: «What's so amazing, he's my grandfather!»… «And so what?»… «But he's hassle-free.» That is the grandfather creates a sense of security, he seems to spread athlete under a program required, and, importantly, without stress. Imagine a girl 15-16 years and she is in a very delicate stage of their development, but his grandfather psychology imposes on her a sense of security, that allows her to fully concentrate on the goal and, ultimately, to achieve a result. Each vegetable his own time: the young coach has to work harder than his disciples, he takes operability. At that time, elderly coach has a great experience he does not do too much, and its effect is not so much motivation as stress-free, allowing during exercises to achieve the desired state of comfort. But the most important, what we are talking about is the impact on the athlete's coach. And yet, athlete and coach must be wanting the same and move at the same time in the same direction.
At what age do you feel the harmony of your internal state and the image of the coach, who for so long time brings you to success?
I not yet felt. Every day everything is new. It is a tricky thing: you wake up every morning and do it all over again. Every day is a new one. They look like equal those days, but they are still different. The athlete is always in a different state, I have thousands of changing little things, factors to consider and adopt new solutions. This is not a lack of confidence, the mood to work with people. Even the old program will be implemented in a new way, in the light of a new day. This real trainer looks little inside him-self, he lives the characters and experiences of athletes. And confidence comes when there is a good performance statistics of athlete's appear.
A sense of responsibility before the major start can crush any athlete. What should do coach in order to help sportsman to fight his excessive anxiety?
Sport is like theatre. Just as in the Stanislavsky system, in creating the image you need to get used to it and treat yourself as if you have reached the desired. It works, and many times I tried this model with my pupils. I tell the athlete: «Look at your-self in six months at the World championships. Did you do everything to achieve success? He says: «Not everything." I say: «That's what I think, too.» That's what makes people stronger. You give not just an advice, but you take together with the athlete the course to go. Or another option: we are talking about a system of Stanislavsky, so in America in the theatre's schools there is very popular method of «Other Chekhov.» Suppose actor playing Hamlet, and around it creates the appropriate atmosphere, that completely immerses him in the right image. This system is not that popular, it is most understandable. In sports, it is widely used in the West, and looks like this: a team with proper management creates such an environment, in which the negative result becomes impossible. Like General Schwarzkopf's action during operation «Desert Storm.» When aircrafts come, vessels embarked on the raid, armed vehicles lined in many columns and then small group of soldiers cranked instant and successful operation with minimal losses. This situation is projected into the sport, implies a clear fulfilment of their functions by all members of the athletes' service team. To work with them attract the best professional staff: coaches, doctors, psychologists, biochemists, biomechanics, and many others. Those, who provide the necessary information and emotional atmosphere to achieve the result. Very valuable, that in Russia now raised the level of social interest around swimming. The stability does not come when they say: «First you conquer a medal, after that we will raise the bar to ensure the athletes.»
It is absolutely necessary to create conditions for the start of their training. Emotions, primarily, negative, arise from the lack of information. As once an American coach told me: «I just noticed that among good athletes the most emotional swim badly the second half of the race.» Athlete must be trained to be not only physically, but also emotionally. He must receive the necessary information relevant to its activities. For example, if a swimmer is not able to run the second half of lactate 16-18, it is not necessary quickly begin the race. But to do this with him for a long time must work biochemists. That is, we need feedback, generating the psycho-informational space, which athlete must have in order to achieve the result, where he not only chooses the right direction, but it also helps to do it. Constant monitoring of athlete's activity of the removes the «white spots» and eliminates his weaknesses. Speed ​​of distance's parts, the recovery process, hydrodynamic characteristics — all this and more things become a tool in the work of the coach and his pupil.
We live in a post-industrial, not just informational, but rather the communication's era, when information becomes more optimized. Coaching in Australia, I am always amazed at how much data is analysed and issued as a working models and recommendations during a training activity. You can't use this, but the big team of assistants and support staff is always ready to provide to you this information. It is important of course, the ideological component to create the necessary psychological atmosphere: work on their image, team meetings, joint pastime, slogans and other installations etc… But the entourage around this process, of course, is more important.
With whom, for you, is easier to work — with girls or boys?
With the boys is easier. Girls are more emotional and require more attention. In practice, the boys can work them-selves up to 60%, girls — only 30%. But another question: an experienced trainer can identify the face, it is his own pupil or not. Most athletes today have become highly literate, and therefore they perceive critically imposed them orders. And this is a bad scenario. These athletes are resistive. They are not admitted into their world their coach, denying the possibility of helping. While the main condition for productive work is boundless confidence. If an athlete does not follow the coach without looking back, it was not his sportsmen. Lack of faith in the coach creates lack of confidence in them-selves, endless doubts, then, psychological complexes and, consequently, failed to finish. Like it is in Bible's parable about Peter. When he saw Christ walking on the water, he himself tried, but began to sink, to which the Lord reproached his lack of faith. For example, I do not care that the athlete swims, important to me, as how he swims. You know how much I've had swimmers, who believed in me and I turned them to my faith? I think a dozen. So, all of these twelve men became champions of Europe, World and Olympic Games. For one of them I had to use even pressure tactics. It was Gena Prigoda, one of my favourite athletes. But he then admitted that I was right, and my decision helped him to realize. When he made mistakes, I told him: «Don't worry, I'm the coach in order to save you from them.» Real pupils may not be a lot. For example, for a long time in Australia, I had only one like that — Nicole Stevenson. And even she not became World record holder, in her honour was named the ship. Now she is a legend of Australian swimming, a very popular television presenter and successful business lady. One day she was asked how she could characterize Turetsky. She said something like that: «We have no coach like him, — and then wondered added – and will not the similar.» I quote her words not for self-promotion, and for show her attitude to me. She had previously swimming with other trainers, but followed my instructions perfectly. The faith combines and separates the internal opposition. When I worked with Popov, the resistance was not present, so it was easy. And when I am working with another type of athlete, I see that he is not that does, not want to jump into the water, he just wants to get everything at once, rather than follow the proposed route. I give a lot of space for the athlete and always leave him a possibility of choice. This method ensures no disappointment to the coach as well as to athlete.
What is the secret of not only outstanding results, but of their stability?
It is in the character of athletes, without any doubt. Some of swimmers, reaching success, immediately fed up of it. Others, as Popov, achieving success, not overestimate it, perceiving the incident as the next step in his life. Some have a goal and say: «I will get the result and no matter what will be the cost.» Maybe this is a good idea, but often they do not achieve success, because they are too accentuated on the target. At this point, the goal itself is deformed and becomes too heavy, the athlete simply does not survive, or his desire fades. Often, our perception of the apex formed by the mass media, and being they on the top, we are not prepared for the way it looks in reality. Maximalism is dangerous. But to support the motivation is necessary to create a true representation of yourself and comfortable working conditions. And do not waste the time on empty talk. Only recently I learned that when Popov began to swim with me, his elders told him: «Is forbidden to talk with the coach in training stage, because you rob of other useful time. If the coach does not appeal to you, you do not distract him.»
Where is the coach himself draws his personal motivation?
In trainers' profession people came by vocation. Ability to work with people it is a reward. In some cases, many are even ready to pay for it. With age, the level of resistance in athletes is increasing, so the most pleasant is to work with children. From them comes the reply positive impact. It is difficult to work with unsuccessful, they are not returned to power. This energy is called gratitude. It's not just only words, it's a feeling, as your feeling of happiness. For all that he is given: for the day just for exercise, for talking with him or advice … You can't show it, but still it shows that the eyes are burning. I don't want to oversimplify, but children and pets, this property is most pronounced. The feeling of gratitude of your pupil gives a huge charge, energy recovery. And at the same time solves the main problem of establishing of the system of relations «athlete — coach.» Some coaches ask me: «Why you don't jump with joy, because your athlete set a World record?» To those colleagues I answer, that I don't jump, because I do not want to cry when the World record will not take place. I've been waiting for this record, that's just tired. I set a record — well, did not deliver — also not too bad. So many people say: «Gennady has no passion, he is a little bit is slack.» And I do not slack, I feel so comfortable like that. I wish to have athletes like that. Not too happy and too sad. Passion is good, if your personal nature corresponds to it. If you like to live with it, it is for your health. One famous poster shows one well-known pupil of mine, Australian Michael Klim, where he with brutal expression jubilant after the victory. He did once asked me: «Gennady, do you like this photo, I'm not there very scary?» I replied: «Not so terrible, but when you're will be like this next time?»
English version of the dialogue: Serge Wodes