A simple village fellow, who achieved the World recognition, Simeon Boychenko became a real sport idol of all pre-war generation. The West predicted him the glory of famous Tarzan, witch role was played by a great American swimmer Jonny Weissmuller. But Simeon was a soviet man, and another destiny was waiting for him.[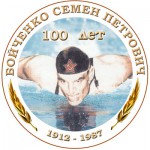 Boychenko was born in Marievka, a small village in Kherson Guberniya of Russian Empire, where a full-flowing Ingul river was running, cutting the rich Ukrainian earth. In his childhood a future star of World swimming Simeon Boychenko has a favourite game, called "latka" (patch) – something between tag and diving for a long distance at the same time. It was rather difficult to surprise local boys by swimming's skills: many gangs of young guys attacked vegetable garden near the river and after that they gone back home swimming across, fortifying themselves with stolen tomato and cucumbers. The boys measured their strength against each other, dived, swim in the river from their own village to Maryiana grove and back. And Ingul flowed downstream to City of Ochakov, famous of its Russian weapons' glory, and then was dissolved in the estuary and further speeded to the sea, where many big white vessels were nicely navigated. Simeon remembered: "We were living poorly in our village and in order to procure something to eat we obliged to fish and to spend all days long on the river. At this time I learned already an offbeat art – to walk on the water and to show for local summer residents several tricks in exchange of a couple of cooper coins".
His father died soon and in 1928 in order to look for a better life his family moved to Kazakhstan. Four years after Simeon Boychenko, a Komsomol member (youth communist organisation) and a graduated radio-mounter, participated in a recruitment of radio-telephonists in Soviet Red Fleet. A first question to him in the reception centre was: "Can you swim?" Simeon smiled: "We will tray". During the medical examination he was nude in front of doctors, and they were looked with curiosity from his Apollo's figure. An athlete with opened nice smile, slender and wild-shouldered, he remembered an antic discus-thrower, and his answer to the second question of commission, where he wanted to serve, was short and clear: "On the sea!"
In Sevastopol, where he was sent by his military chefs, Boychenko's sporting talent was opened. His beginning was really unexpected. The captain of the vessel, where Simeon was on the service, ordered new Red Navy men to participate in All-Soviet sporting "GTO" (Ready for Work & Defence) competitions: "It's no Fleet without swimming! Who was not able to pass those norms, will serve on the coast!" And on sunny Saturday more than 100 young sailors started from the beach in the direction of the vessel in the distance of 1000 meters. Simeon ignored a "correct" technic of swimming and he had his special one, before used in Marievka, when he was a young boy. He was swimming lightly, only the waves caused a little bit to fall on his breath, but he was the first to attempt the vessel, greatly advanced all his friends.
It was the time of extraordinary enthusiasm in USSR, a real cult of health and physical perfection. A well-known Soviet sea-writer Leonid Sobolev describes like this swim's competitions, which eye-witness he was those days in Sevastopol (Black Sea port): "A nice summer's morning. The sun and the sky are in the bleu shine. Frozen road, red-hot earth. Roasting waves of heat, large steps of tribunes of local water station. There is a splendid flaming bronze of six thousand nude bodies of Red Navy men, fleshy of blood, life and joy. So big current of the health and power flowed from them, that it was seeming, that a gold myth about beatific Hellas was revived… It was the first day of the Soviet Black Sea Forces' Spartakiade…"
Boychenko was unconquerable in the Red Fleet and on the end of July 1934 he Black Sea won All-Soviet selection's tournament and entered in the swimming team of Worker's & Peasant's Red Fleet. And one month later he became a winner of Soviet Army's championship. In 1935 Simeon was transferred to continue his military service in the Central Club of Army, he became a Moscow resident and a student of the main sporting institute of USSR, where a famous Soviet swimmer Andrey Vankov became his first real coach. Being Moscow's champion, engineer by speciality, he carefully studied swimming technic and he was one of successful innovators in this domain. Vankov looked at his new trainee and wondered: "Where are you learned to swim so nicely?" Simeon's answer was: "In Ingul river". A Moscow's expert was obliged to conclude: "Nothing to do, we will polish your special stroke, and we name it now Butterfly!"
In 1935, after that American swimmer John Higgins in 100 m in this stroke shattered a World record of French swimmer Jacques Cartoné by 1,5 seconds, the European Swimming League (LEN) has admitted butterfly as an acceptable variant of classical breaststroke. And 8th November 1935 during the international competitions in Prague Simeon Boychenko hold his first record of USSR in breaststroke-butterfly in 100 m with the result of 1,12,2. And two months later during the championship of Moscow he set a World record – 1,08,0. He exceeded Higgins' result by 3 (sic!) seconds.
1936 was a year of new achievements: World record in 100 m (1,06,8) and the best time in Europe in 200 m butterfly (2,39,4). And after that Simeon boiled over in the 3rd International Worker's Olympics in Antwerp (Belgium) in 1937: World record in 100 m and victories on two distances in butt with the results considerably outstripped the winner's times on the Olympic Games in Berlin 1936! There were the first victory of Soviet swimming on the international level. But, alas, the Federation of swimming of USSR was admitted in FINA only in 1947, that is way all Boychenko's records had purely Inter-Soviet character, but direct victories over the strongest World swimmers were the confirmation of his real power. A super sensation of Antwerp Games, Simeon Boychenko broke records and conquered hearts of European public. His charming smile never leaved newspapers' pages all over the World. At once after the competitions in Belgium the French workers' sportive federation invited Simeon and all members of Soviet delegation to participate in the tournament dedicated to Universal Expo in Paris.
A legendary weight-lifter Jakov Kutsenko, participated in this triumphal tour of Soviet sportsmen in Europe, remembered: "It was rumoured, that Simeon, as if, violated the purity of swim stroke, that he was moving his arms not in accordance with official regulations, etc… But his performance in Paris' pool attracted the attention of swimming' connoisseurs, of many journalists, sport's fans and simply curios persons. Boychenko appeared alone, his competitor was only the final result of his race, as well as referees and experts. Would they to accept or not the fact that the stroke of Soviet swimmer corresponded to requirements of International Swimming League? And Boychenko conquered the record, as well as all fault-finding connoisseurs…"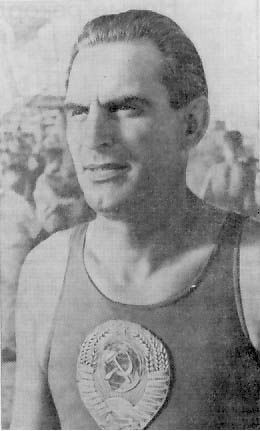 Two days before this fantastic event French swimmer Jacques Cartoné in Toulouse (France) hold a new official Wold record in 100 m 1,09,8, two seconds worse of Boychenko's result. At the same time Cartoné declared, that this achievement was a fabrication. So, Simeon challenged a Frenchman and proposed him to sort their relationship in his swimming pool. Cartoné accented this challenge and some days after in Toulouse's swimming pool "La Tourelle" with the presence of numerous public they took their starting places in order to swim the distance of 400 m butterfly. But suddenly Cartoné refused to rival Simeon. An audience was really puzzled and Cartoné said, that he refused to start, because there was "a red star on the swimming cap of Russian sportsman", and he could be excluded from LEN if he competed with a Soviet representative. But after that a squall of public's perplexity of its compatriot's behaviour and accusation of his cowardice was changed by a real ecstasy, when Simeon Boychenko, swimming alone, was able to break World record of American Higgins and at the same time he exceed by 6 (sic!) seconds the best result of his, suddenly became very pale, French rival.
The Soviet athlete was filled up with invitations to Diner parties, Russian emigrants of the first wave, settled in France, seduced him to stay in the West, proposing to act in a movie. All day long three cinema groups with scenarios were bursting to the hotel and to the room of "The King of Butterfly" or "The Red Whale", as Boychenko was named in French mass media. But every time he inevitably rejected all attractive contracts: "Sorry, but I am in harry to go home. Good-bay!" In Moscow Boychenko was meted like a real national Hero. He became super popular, every famous persons of the country wanted to meet him. Stalin himself from a Kremlin's tribune hold him up as example to young Soviet generation: "A former Black Sea's sailor, comrade Boychenko became an unsurpassed swimmer of World class. Follow example of Boychenko! Break records in the water, as Boychenko, and as Chkalov in the air!"
All pre-war years Boychenko remained invincible and the spring of 1941 was at peak of his sporting shape and he hold several best results in the World, leaded the plafond of his results up to 1,05,4 in 100 m and 2,29,8 in 200 m butterfly. But those records became the last for him, war… He strived to the front, but in accordance with Stalin's order he was freed from mobilisation and shorted to swim preparation of Red Army special troops. All days long during the war he trained and prepared thousands fighting swimmers. At the same time he participated and won many Soviet competitions in butterfly and relay.
He leaved big-time sport as an invincible swimmer and in 1948 and he was making plans for new life, he was ready to restore again his best sporting shape, but the destiny prepared to him a terrible trial. By a provoker's denounce Boychenko was condemned for so called impartial comments regarding Stalin's son Vasily and criminal relations with white Russian emigrants and bourgeois press.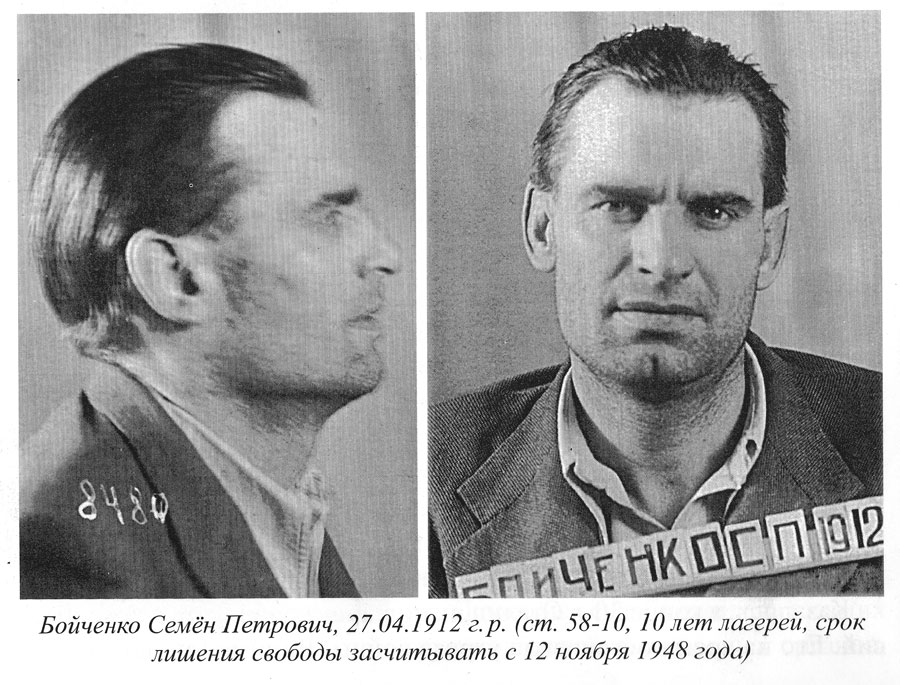 So, at night of 12th November 1948 Boychenko was arrested. After examination of materials of his case, Simeon declared, that he will not sign it. An answer of investigator was: "We are broking and not such strong men here!" Half a year Simeon has was signed an "open-hearted" auto slander. During this period he loosed from his near 100 kg of fighting weigh more than 40 kg, and finally he was transferred to jail's hospital. A prosecutor warned him, that if he will not sign his declaration, all his relatives will be deported with him. Simeon realised, that it was no issue for him, and he became a one more chip in the timber cutting machine of Stalin's camps. As well as his friends, greatest Soviet football players Starostin's brothers, he received 10 years of detention…
Years of Solikamsk's camps, GOULAG's torture was ended in a clear summer day of 1955. First think made by Boychenko after receiving his liberty by amnesty was a trip to Ukraine, to his native village of Marievka. There he was swimming up to exhausting in Ingul river, diving, overturning to the back, then to the breast, and for one time more completely plunging in the water, freezing in zero gravity of flows of his own river, trying to wash himself from calumny and humiliations, from what he was suffered all those years. And from riverbank, as it was in the past, dozens of boys were observing him, a man, who was for their parents the real legend from a next door house. Marvellously, but he has never declined the validity of chosen way and not renounced from his sincere belief in the ideals of equality and friendship.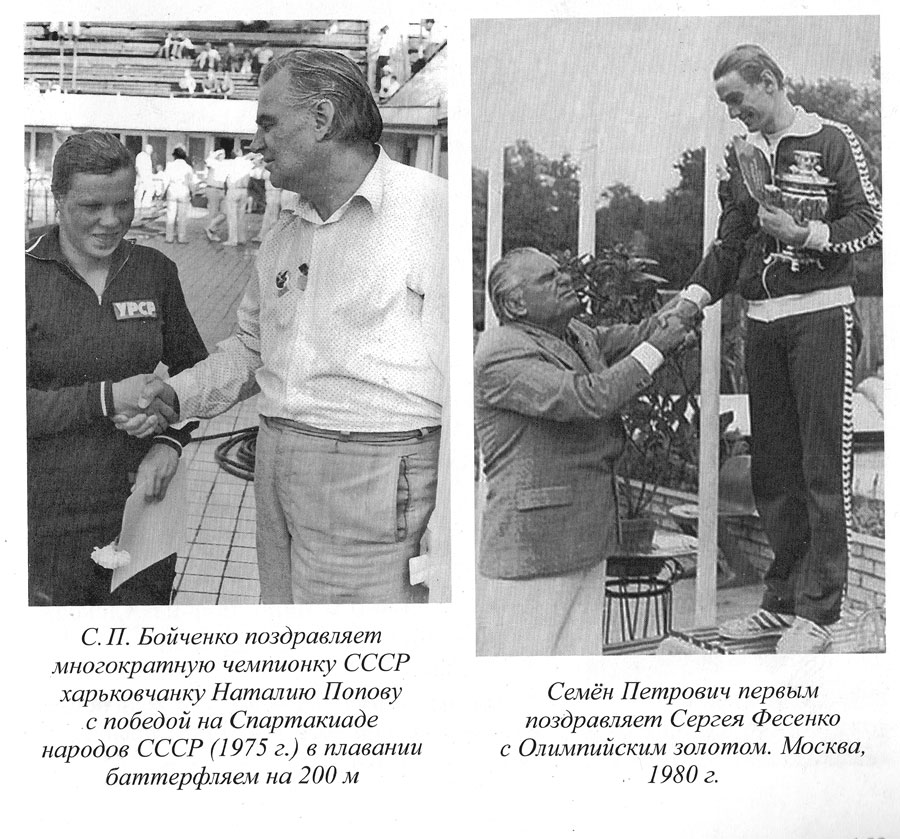 May be, just it has helped him to restart his new life. During more than 30 years after his forced detention Simeon Petrovich Boychenko was teaching Soviet kids to swim. He was working as a coach in the famous Palace of Water Sports at Mironovskaya street in Moscow, he was a main referee of many competitions. As a guest of honour he visited practically all most important sporting events in the city and in the country.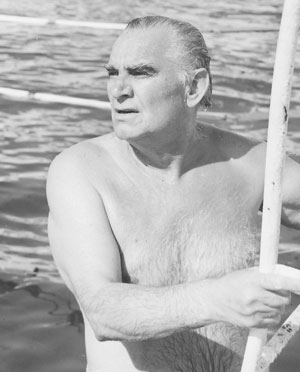 At time the swimming of Masters, alas, was not developed in the USSR, otherwise Boychenko might be not equal: even in the age of 70 years, he was swimming 50 m by his famous "King's butterfly stroke" in 32 seconds!
His unbending will-power, courage, honesty to himself and to other people, his kindness and good spirit has done Simeon Boychenko a sweetheart guest of honour in the houses of his friends all over the Soviet Union. But after a sudden sick he in January 1987. Before he had a possibility to visit his own village Marevka, to say goodbye to his relatives and to roam barefoot on riverbank of Ingul river…
There were a lot of legends about Boychenko. In Paris, where he became a very popular person after he broke many World records, he was really chased by journalists. But as a Soviet swimmer, he was instructed by special organs, that's way he was rather laconic and reluctantly contacted with local press. But once, an all-knowing reporter decided not to tempt more the champion and demanded him simply to breath in microphone. So, the great Soviet swimmer made a deep breath in and a breath out. The same day in radio report a French speaker announced about a new World record and then added: "… And now you will hear, how is breathing our Hero, the King of butterfly!"
Text: Dmitry Volkov & Serge Wodes