"Only he knows, as much forces and patience were used for this victory. At 1994 he won the World Championship, simply like that! So light and natural was his style, so big was his advantage over all his competitors. To be the first on this planet is an achievement, witch realisation is obtainable only for selected people, and Vladimir Selkov is one of them. Really he might t become also an Olympic Champion, but… who knows it now? " Dmitry Volkov, aka Mr. Swimy
Personal data:
Vladimir Vladimirovich Selkov born on the 1st April (it's not a joke!) 1971 in Berezniki (Perm region, Russia). Many times champion of USSR & Russia, winner of World cup, Europe champion 1993-95, World champion 1994, silver medal of Olympic Games 1992 & 1996 in the 100 m & 200 m backstroke. Honoured Sports Master of Russia.  Army Sport Club' member (Volgograd, Russia). Couches: Anatoly Zhuchkov & Natalia Trotsevich.
The life is stopped in this town
Somebody could say: "What the bullshit, it's impossible! The man is not capable for it!" But I know today exactly: what is coming back to my memory, you know, it is like slides, it is true mama's face: she was looking at me and she was smiling. And me, I am too small, no walking yet, reaching to her my little hands. Evidently, I was one year kid. Berezniki, Youbileynaya street, 95-75. A town of my youth. Our apartment in the house, where I was growing. There, in the yard, it is the same terrible asphalt. Do you understand? Not the same, but the initial one. And the 5 floors' panels house. In order to conceal its old age 20 years before they covered it by something green. By this toxic colour and by a bakery "Kolobok", situated just in front of a vegetable shop, it was always possible to find a district of my habitation.
Vladimir Ivanovich, my father, perished in the mine one month before my birth. He was closed there by ground with other miners. I was growing thanks to the efforts of my mama, Uliana Egorovna. She is a real worker and she had a very difficult life. Like my father, she was working all his life in the mine, deserved the whole bunch of professional illnesses and the life in the town, where the time, it seems, was stopped. At the age of 6 years I was already practicing figure skating, after a basket section was added to it. But once a recurrent leg's injury directed us with mama to a doctor, and he proposed to occupy my hyperactivity by something spare, for instance, by swimming. Especially, there was a real possibility for it – near my house a new swimming pool was constructed: 4 lines, 25 meter long of water named "Titan". Now days it is renamed, evidently symbolising an unbending character of local population by humiliating title "Optimist".       
So, I came there in September 1980 and the first words I heard were: "The group is already foul. Come next year". I had even no time to get upset, that my mama attacked: "Minute, what does it mean, next year? Find, please, the possibility!" As to me, I supported mama's request: "Please, dear uncle!" Anatoly Ivanovich Zhuchkov, it was a selection coach's name (he is my first and unique coach) saw at me strongly and asked me: "Do you have a swimsuit?" I yelled: "Yeas!" He asked me again: "And do you can swim?" With lightning speed I confirmed this fact by happy nod of my head. My stroke was very special – I could float on the water, practicing the summer bathing with my friends in a local river, but this skill was enough to predict my destiny.
I was obliged to compete with bearded accelerates 
My first motivation to continue swimming lessons was my coach's praise and a wish to give the joy to my mama. She visited all, even the most insignificant competitions of our group, and if I lost, she was very suffered and cried. But when I won, there were several times, she cried again, but already of happiness. After some time, winning for the first time in my life local competitions, it was seemed me, that I became rather not so bad. But when I was for the first time in my life promoted to All Union tournament titled "Pioneer Truth" in Lithuania, I had a sensation to be a literal zero! The second place from the end in the races with the bearded accelerates provoked to me the feeling of my complete nothingness! Everything could be absolutely bad, if one man no detected something positive in me, sickly and not sure of himself adolescent. Alexander Samsonov, a senior coach of national team for juniors and a unique selectionist. He was able by one look to determine a talent in any child. The stars of national swimming of 1990th years, as Popov, Pankratov, Korneev, Kulikov and many other boys of my generation, were detected and selected for centralised work in particular by this remarkable expert. After the competitions he came to me and asked me maliciously: "What are you from, boy?" I answered to him: "From Berezniki". "What is a village?" – "It's not a village, but a town! 200 thousand persons of population!" He replayed to me with the smile: "200 thousand of population? So, common, boy!" And after some minutes he gave me swimsuit and goggles from "Arena" – the product, for which our people of those days pledged their souls – and invited me to an examination meeting at training base of USSR national team "Round Lake". Oh, it was super cool there! Of course, we were living not in the main campus, only in the 5th floor house for service people, but our sensation of touching the great men not abandoned us for any minute. From my youth Zhuchkov inspired us the necessity to keep a dairy. I put in this small hand-written book the photos of my sport heroes for imitation. The first who got into those pages was a legendary Mark Spitz. Discretely I cut out his photo from one of magazines when I was in guest, nobody did not see my action. The second was bald Duncan Goodhew, Olympic champion of 1980 and, of course, Vladimir Salnikov – it was impossible without him. And very soon other persons joined them – white and black photos of super leaders from magazine "Swimming". Then in "Round Lake" I meted them face-to-face. Shemetov, Zabolotnov, Poliansky – those and other guys represented the glory of soviet and world's swimming. I spied every their movement and tried to imitate their features – there was the real school for me.
Hi, guy, give the way to elders!  
From all my junior's achievements I had the only one victory in USSR – GDR match. My generation of the same age was punished because of a misconduct of one year older boys: arriving for Europe championship they organized a group's theft in German shops with so called competition, who steal more. Briefly, my sporting youth was passed ordinary. But in 1988, for the surprise of all, I won the silver medal of the adult USSR Championship. But it was the selection for Olympics! I went to "Round Lake" for the preparation for Olympic Games in Seoul, but suddenly I was requested by administration, who said me: "You know, boy, you have all the future in front of you, give the way to elders!" So, even not received merited equipment and completely discouraged, I unmoored away.  There were any wishes for swim. The sensation of injustice not leaved me. But the time is treating and finally I started a new season. At that, in new place for me, in Volgograd. City-hero. The place not only of fighting glory, but also of sporting glory. I remember, I was in the shower after my first training and suddenly I hearted heard-rending wailing from the swimming pool. I asked a passing boy: "What's the cry?" And he answered: "You don't know? This is Avdey". Just at the same day I had meted with future stars of Russian swimming Denis Pankratov, Evgeny Sadovy and with their extravagant coach Victor Borisovich Avdienko. Before my meeting with those people I was sure, that it was me, who was working like a horse, but seeing how were working from ring to ring those monsters, I felt better, I understand: my personal lot is not so awful. 1989 passed rather successfully, in winter I won the USSR Championship and in the summer I confirmed this title, overtaking Makhmud (nickname of Zabolotnov) and Poliana (nicknam of Poliansky) during the European selection in Kishinev. This year I lacked a little bit to surpass Italian Stefano Battistelli, who won the European championship. Probably, this year I mused for the first time about fugacious nature of sporting career. After the triumphal performance of Igor Poliansky on the Olympics in Korea I saw, what could done with man time and food. After several weeks he, an elite swimmer, became a man with appearance not even reminding that he was an Olympic champion. 25 kg plus of weight, completely untrained, in spite of his honest tentative to restore the past speed, 1989 year was the end of his sporting career. I had a pain to see his torments in the water's line. Later I never gave me an easy time any day, even during relax period I always terribly kept myself in good shape. May be, in particular this factor – my phobia not to work enough and not to obtain the needed shape – should play a vicious joke with me in 1996 year, when me, being the best in the world, I would fail Olympic games in Atlanta. But this is another story.
Avdienko apologized for everybody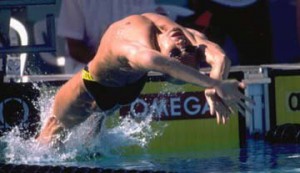 Looking at giant backs of my competitors, their powerful arms and legs, I always really considered my possibilities. That's way I never became strongly upset about my defeats to them. There were the cases during 1990 year, first on the Goodwill Games in Seattle and 6 months after on the World championship in Perth. By the way, my silver medal was stolen by somebody. He took it for seeing and not return me it back. But who was that guy, I forgot. So, it was like that.
European championship in Athens, one year before Olympic Games in Spain, was a routine without any surprises, where the winner was a new World record-holder, Martin Lopez-Zubero, American of Spanish origin. I finished strictly after him. Just the same were the two first places one year later on the Olympic Games in Barcelona.
2 years before my victory in Rome were passed like on one wave. I got up on the first place of the World rating and a little bit of time I was considered as a tsar of mountain. World cups, European championship in Sheffield, and the hole next season I have managed to swim 200 meters better than all my rivals, in spite of the presence in the nature other strong backstroke swimmers. I was preparing to World championship with a national team. Once, when we were in the USA, a strong conflict was happened between me and administration of the team. The situation became so heated, that I did not participated if the final stage of preparation of national team before the trip to Italia, and even in Rome I was trying to avoid any contacts with my "bosses" in order not to bum myself before the main start of the season. But they also were passing by.
The day, when I became a World champion one famous local football team "Roma" was playing on its nearest home stadium a match against "Inter" (Milan). Audible buzz of voices of 80 thousand people in the football tribunes reminded me, that swimming, alas, is not a most popular sport at our planet. Zhuchkov ordinary did not interfered in my psychology. Our relations were usually limited only by several technical moments of his coach's help to me. But a weight of responsibility multiplied by the boycott of national team's administration did not added confidence in me. There was the worming up before the final race. I did not remember what said Gen Genych Turetsky, suddenly being on swimming-pool nosing, but after his supporting words I received all at once so big afflux of forces, that the only thing to me was to go to start and to demonstrate to everybody, who is the real chief here! I was not first in the call-room, Zubero, hiding his eyes, and others were waving already their arms and were somehow nervously moving. I seemed to me, obviously those guys were already "finished". Even it appeared to me, that I was mistaken by the room, so all happened there not touching me. I drop to everybody: "Good luck!" and for spending time started to lick my goggles.
It was no false start, immediately I flow ahead of rivals and was rested on this position up to the end of the distance. I had never feeling of such sensation. I saw others at my feet and wondered at my lightness, but I was afraid to accelerate, thinking, if I should have enough forces to finish. Like that I insured myself till the end of this race. Touching a pool's bard, I shoot a glance aside, looked at my coach's face, I heard voices of our boys from the tribune and was very frustrated, that I conserved a lot of forces. In one moment Zubero swam to me, congratulated and told, that he will stash swimming, so he was suffered from such a terrible final race.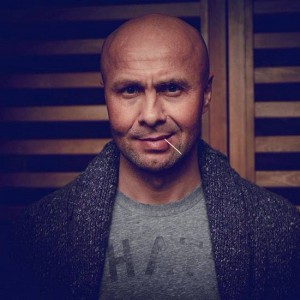 I am really a happy man. How many events there were, and how many, I hope, will be in my future life. The gold of the World? It is not influenced my personal life. Money, and I received 2700 US Roubles, was, of course, rapidly spend, but atmosphere and my surrounding was never changed. May be, just on a very beginning: right away after this victory Victor Borisovich Avdienko came to me and apologised. For himself and for all people, who did not believed in my success. But his act caused me to change something in my life and stay in Volgograd till Olympic Games in Atlanta. But who knows now, probably, it was in vain…
English translation of article from magazine «Swimming» N4 (2014): Serge Wodes Photos from archives of Mr. Swimy