A handsome man, cherry fellow and japer, dominating all his rivals as Everest, Robertas Zulpa in 1980th was absolutely inaccessible for them. But World record of English swimmer David Wilkie in 200-meter breast (2.15,11) will be bitten not by him, but by Canadian Victor Davis. Truth to say, it would happened only in 1982, and at that time…
Dmitry Volkov
From my youth I always liked water. I was swimming everywhere it was possible: in the river, in the sea, in wash-basin at home, till blueing, till tooth chatter. "You are not bad on the water, come for training» — told me in 1969 during pool's class my teacher, then my first coach Grigori Mirvis. After that the processes started. He had a sharp eye, and later a new comer entered in our group — future champion of XXII Olympiad in Moscow Lina Kachushite. I started just with breast, my coach said me that I had legs as a real frog, that's way I had no problems with stroke's chose. At the same time I was an absolutely ordinary child, won, lost, had nothing extraordinary from others, if I had a chance I received a medal, after that I was running again to my friends in sweet home's yard to play. I was always lazy, and the coach repeated me every day, if you would train more, more disciplined, you will be really priceless! But I remained always lazy. My Lithuanian character helped me, I showed nobody, that in fact I want to win, still quietly had several victories, and after it I go again in the water and stay at its bottom. Of course, victories gave me pleasure, I was respected and even I was doted on… for some time. Frankly speaking, finally we were swimming for this…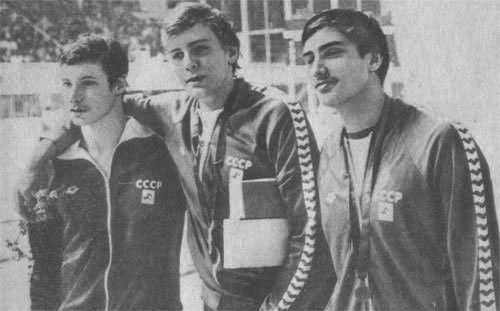 In USSR National swim team I had a nickname Zhulia, may be, it was too long to pronounce Robertas Zhulpa. The author of it was Waits (Sergey Waitsekhovsky, head coach of USSR swimming team in 1971-1983), when in 1978 I entered in Soviet roster. I achieved a best result in "Komsomolskaya Pravda" National tournament and became, as they say, rather perspective. The same year I gone to the USSR-USA match and then to the Worlds championship in West Berlin. I was first in prelim, but in final race I burnt out and was only seventh…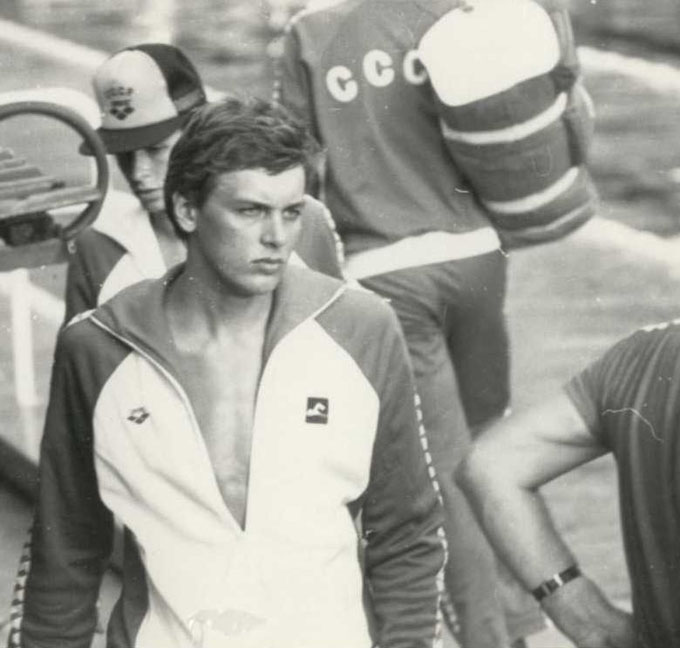 One year before Olympic Games in Moscow my position in World's rating was always growing up — I was fourth, third, second… I had no ideas about victory, I was thinking like that: it will as it will be happened, in any cases I will blamed only by my personal coach Boris Zenov and Waits.  In Olympic year my result was already the first, and they immediately started to hang me "gold" chocolate medal. American boycott of Olympic Games in Moscow had nothing changed for me, because they had nobody among favourites in 200-meter breast. I might be afraid of our swimmers Arsen Miskarov and Gennady Utenkov, as well as of my little English friend Duncan Goodhew, Hungarian Vermash and other representatives of socialist camp. You know, in similar situation was also Kachushite. Only Soviets swimmers in free and medley, as Kopliakov and Sidorenko, could fear Americans, in our stroke all best swimmers were starting in Moscow. We were hardly working on Krugloye Lake camp, there were three trainings in the water per day in Tshkadzor (Armenia). I done everything that Zenov requested, of course, cut off a little bit his tasks, and it was better for me, otherwise, I would be dead. I was not a big fan of books, my preferable entertainments were music, cards and sleep. Waits told: oversleep training is a good reason, that's way sometimes I was oversleeping. So, I was working hard, it was necessary – it was obligatory! And I had no ideas about future starts, I was sure, that I will dive and swim, as they learned me…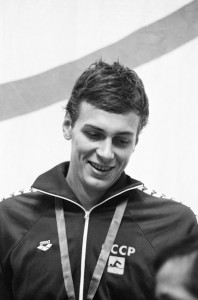 During Olympic Games-1980 we were separated from other team by Zenov, who, using his nice relations in Soviet Army Club, obtained for his group a 5-roomed apartment: downstairs was a cantina and through a road was situated swimming pool "Olympisky". Games' opening was not for us, we see our team only during competitions, and it was under compete ban our presence in the Olympic village. Last night before final race I was sleeping as a real child. But suddenly Zenov entered: "Stand up! Breakfast." I took some food and a little bit ice cream up. We went to the street, passed the road directly to swimming pool. In the morning's prelim session I swam not shaved. My warm up was as usual as in any competitions, swimming till one km: 200 m medley, legs, arms, for coordination, a couple of 50 meter under chronometer, several starting dives, accelerations and coolly ending of last 200 m. I entered in final race with a first result and immediately run home to eat and to sleep. And again Zenov waked me, now with a razor "Neva". In half an hour he scraped me with this razor and told: "That's all, let's go to swimming pool!" It was rather unusual atmosphere for me in "Olympisky". A lot of people! I was never saw so many public, even in World Swim Championships!!! I twisted my legs and arms, dived in the water, had only 30 minutes' warm up especially to have one hour for rest before start. After I was warming more in a shower and without any lie I was seated near the water watching others to swim. Zenov did not touch me and I did not contact team's psychologist. Before I had two attempts to do it without any positive result, on the contrary, I started to laugh, and in order not to disturb other people, I was expulsed from his séance. So, only our masseuse Baba Luba shakes me through track-suit and I go to the call-room.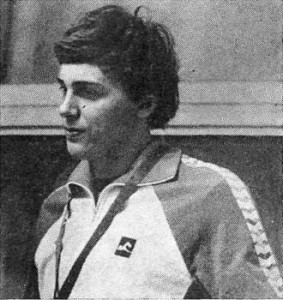 There I was greeting everybody, shaking hands with all my rivals — nice day, gays, hello… And I went, as it was in the pool in Krugloye Lake, coolly, practically yawning, to starting positions.  Zenov was crying something about strokes from the tribune. I remembered – there 15 strokes, back – 23, after that – 20 strokes and finish as you can. At the starting blocks all swimmers were presented to public. I smiled and waved my hand to our team, which was much more noisily and marked than others. It was a false start and every people dropped, me too. It might be better to dive dry and to swim, but it was the fact in accordance with the rules. Finally it was a start! I am calculating strokes – one, two, three… fifteen, turning. Second 50 meters, third, I was swimming as a robot, during a long stroke I saw under the water that I was the first and after me were Miskarov, Vermesh and others. My finishing idea was that more 50 meters and I will have a rest, how hardly I was working and now, o yes, yes, I will relax! I touched pool board by hands and looked at indicating tableau, saw that I was the first, but, alas, without a World record. I got not upset, glanced at tribunes, waved my hand to them and gaily realised: thank God, now nobody will blame me, and if I lost all could remember that I was not so goody during training sessions…
I think, that if somebody was really overtaking me, biting my legs, I was able to accelerate, and 0,3 seconds to World record was nothing, I swam practically without any short breath. After the race I visited once Olympic village and was banished from there in order not to disturb others, who were preparing to competitions. I was obliged to go my Moscow friends. After that Zenov told me: "This is your ticket to Lithuania, they are waiting for you there, go quickly!" And I with Lina, not ended Olympic Games closing ceremony, we leaved home. One month after I received a Soviet Order of Peoples Friendship and a title of honoured sports master of USSR, and our Republic divided homages to all its medals winners, and I received an opportunity to bay my-self a Soviet car "Volga" and one-roomed flat. K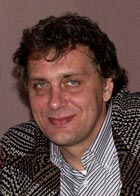 achushite wanted a 2-roomed apartment, but they told her, that it was impossible, take one-roomed or wait!  She decided to wait and as result, finally she received noting.
As to me, in accordance with Soviet laws, 7 years after they also took my flat, because I was in Italy and not lived in my apartment more than 3 months… Nothing to do. But during that Gold Summer there were more honorary diplomas, banquets, vacations package to Palanga resort, of course, free of charge, everything was very pleasant…
I was never interested in politics, I felt coolly a Soviet man, in spite of that even in my family everything was not so simple, and many years after my father went to barricades to defend independent Lithuania. As to me, I liked my life and I would nothing change in it, if I would have the possibilities, it was really a joyous life. Even now I am dreaming about swimming, I do not see any faces, but I am competing with somebody, and it is truth…
English version: Serge Wodes