The total and uncommitted was the triumph of Russian swim team of new wave at continental junior meeting in Baku's Aquatic centre in a frame of the First European Games. Young Russian talents of water's lines took in total 42 medals, including 23 golden. The second place is for Great Britain with 23 medals (7 gold), the third place posted Germany (13 medals with three gold).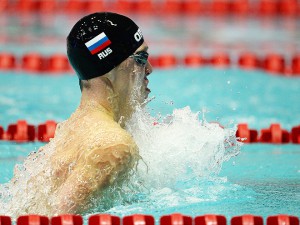 18-years-old Moscow's swimmer Anton Chupkov, Russian flag-bearer at the closing ceremony of First European Games, became a real Aquatic King last day of the meet. With his unique swim technic of high ejection of body and powerful stroke, he won the final race in 100 m breaststroke (before it was a victory in 200 m) with a new World junior record (1.00,65). The second was a representative of famous Lithuanian breast's school, Andrus Sidlauskas (1.01,42), British Charlie Attwood finished the third (1.01,71).
After that, Anton Chupkov, as a member of Russian roster of relay 4×100 m medley, with his teammates Filippe Shopin, Daniil Pakhomov and Vlad Kozlov, posted his second gold medal of the day, and together they demolished World junior record with 3.36,38. The same British were second (3.39,01) and surprise's Poland (3.39,31) finished third.
On the crest of Russian golden wave, Maria Astashkina won the gold in 100 m breaststroke with 1.07,71. Italian Giulia Verona took the second place in 1.08,61 with another Russian girl, Daria Chikunova, being the third with 1.09,02. It was Astashkina fourth gold medal. Queen of breast, she won all events in this stroke (50, 100 and 200 m) and participated in the women's 400 m medley relay victory for Russia.
Taking a nice example of their teammate, Polina Egorova with Mariia Kameneva set two first places at 100 m back in 1.01,19 and 1.01,23. French Pauline Mahieu finished behind with a third time 1.01,34. After little rest, Egorova, as Iron Magyar Katinka Hosszu, won the second gold of the day at 500 m fly (26,82). Austrian Caroline Pilhatsch finished second with 27,18 and Julie Jensen from Denmark was the third in 0,1 second (27,19).
As in a vining relay, Russian juniors Nikolay Sokolov and Igor Balyberdin picked up in tandem men's 400 m IM title and silver medal with times of 4.19,44 and 4.20,80. Poland's Karol Zbutowicz finished third in 4.22,22.
Russian team captured another gold medal by the efforts of multi winners at the meet Anastasiia Kirpichnikova and Arina Openysheva with debutants Olesia Cherniatina and Irina Krivonogova in "king's" 4×200 free relay in a time of 8.03,45. Netherlands's team was the second (8.04,65) and Great Britain (8.04,84) placed the third.
Russian Daniil Pakhomov, who made before a selfy at the podium of 50 m fly, very popular then in Internet, captured now men's 100 m fly title with 52,72 ahead of Spanish Alberto Lozano Mateos taking second place in 52,78. Another Russian Daniil Antipov was the third (53,36).
The Great Britain duet dominated in men's 200 m free. Duncan Scott won with 1.48,55 and his teammate Cameron Kurle finished second in 1.48,92. Russian Elisei Stepanov posted the third (1.49,64).
German Maxine Wolters touched first the finished wall with 2.13,37 in women's 200 m IM. Ilaria Cusinato from Italy posted the second in 2.13,78 with Great Britain's Abbie Wood being third (2.14,49). Russians in the event at the meet have, alas, a big black hole…
Israeli Ziv Kalontarov gave for its country the first and gold medal of the tournament with 22,16 in men's 50 m free final race. Italian Giovanni Izzo took the silver with 22,51 with Russian Aleksei Brianskii taking the bronze (22,69).
Photo: twitter.com