Shavarsh Karapetyan is a Great champion and a simply hero. And in this definition is not a drop of exaggeration. Once upon a time the Soviet public reading an essay about Shavarsh, fought for granting him the title of Hero of the Soviet Union — and, honestly, it was for something. He is a multiple European champion and World records-holder in swimming and diving under water, he went in the sporting history not only as an outstanding athlete. The most weight of his awards — dozens saved human lives…
We met Shavarsh Vladimirovich the South-west district of Moscow, where he lives and works. It looks nice, joking a lot, smiling. It feels in him some real and good power. And this is exactly the case, when the first impression does not deceive. The fate tested him on the break, but he persevered, was not broken and lives his own life with a rare dignity, without any fuss, not exchanged for little trifles. He says such thoroughness taught him the sport and the mountains in his native Armenia. «I'm used like that: first weight all thinks, take decision, and then do not fold.» That's what he tells me. But there have been situations, where for «weighing» remained seconds' splits…
The first time it was in January 1974. This day Shavarsh Karapetyan returned from the sporting base of Tsaghkadzor (known for all generations of Soviet swimmers!) to home in Yerevan. In the bus there were more than thirty passengers. On the steep slope its driver noticing a problem, got out of the cab, opened the hood and … Suddenly, the bus pulled away and rolled towards the abyss. Inside – panic, to Shavarsh, sitting closest to the drivers cab, remained a small moment. And he could do it! With the elbow he broke the glass that separating the cab from the passenger compartment, reached for the steering wheel and twisted it sharply, sending the bus from the abyss to the mountain. The bus froze, standing across the road.
They say that double shell is never fall in the same funnel. But the fate would have continued to experience to strength the champion's defence. In 16th of September 1976 Shavarsh with his brother Kamo and his coach Liparit Almasakyan were jogging in the morning. He already had covered 21 km, when he saw a terrible picture. In front of him an overflowing trolley lost its driver's control, broke through the guardrail and fell from the embankment in the Yerevan Lake. The bus immediately went to the bottom — no one was able to get out from the lake. It seems that God himself sent to help the this perishing people a champion-diver — no one else in the World could not, probably, make at the time what was under the power of Shavarsh.
«I remember that I shouted to my brother – "I get — you pick them up!» That's to him I passed the passengers and he farther to my coach … The depth there was somewhere ten meters, visibility was zero, because the trolley raised from the bottom of a cloud of silt. Diving, I broke the rear window by my legs and began to pull people the trolley's salon. Each dive — one person. I operated by touch. I was in a hurry, you know, that for somebody even one second of delay would be fatal.»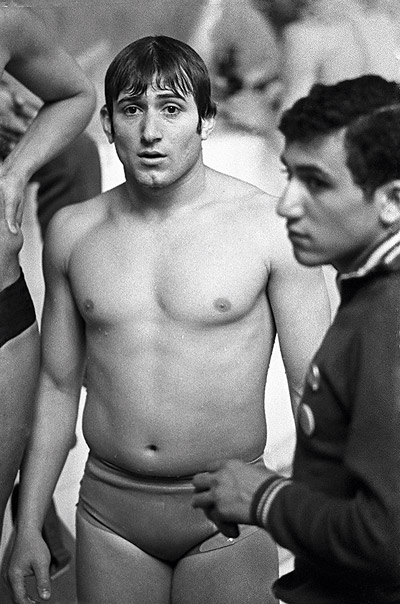 Even now, so many years later, in a comfortable Moscow's apartment from his story quietly run shivers down your spine. He dived over and over again, already like automate, in his fading consciousness throbbed only one thought: people are there! Just a few minutes before, full of strength and agility, but now exhausted, his body rugged by fragments of glass refused to obey him, but again he barely taken a sip of air, plunged into the cold, dark water.
In all, he pulled out of the water 27 persons, 20 of them managed to return to life. I wonder what happened to them now after a complete life? Do they remember their saviour? But I ask Shavarsh about something else: do he dreams about the people that he brought back from the other side of the world?
«Can you believe, ths man is dreaming to me…, but not one of the rescued. This is another person, who I have not got out of the water. When I lost my consciousness there I grabbed not one seat's cushion. He pulled it out and began to cry. That moment still haunts me. I reproach myself for this mistake: I should make at least five breaths and out-breaths, and I made only one. I had not enough of oxygen and I grabbed a seat pad. And it could save someone's life…»
That fateful day put the champion him-self on the brink of life and death. Severe pneumonia complicated by sepsis. One month and a half he was unconscious. When an inflammation in the lungs formed adhesions, every breath was given with difficulty. But also at this time took place a miracle — he scrambled from his situation! Tempering and iron will help Shavarsh, he even returned to big sport and was able to set a new World record! Unbelievable, but after a while he again saved the people at this time from the fire. Multi-storey building was burned and also saved there a lot of human lives, back receiving many injuries and burns. Do you think this is mystique or fantasy?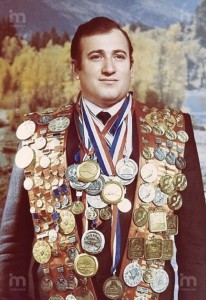 Shavarsh never felt himself a Hero, and the newspapers written about his feat just six years after it. Then an order was given to him by Soviet government — «Order of Honour», International Olympic Committee awarded him by a badge «For fair play»… Though, if for such people to feel sorry "Stars of Hero", to whom do you want to give them?
In 1992, after the collapse of the Soviet Union, Karapetyan moved with his family to Moscow. «I was saved by friendship. My friend, the late now journalist Sergei Veshnyakov, rent me money for an apartment, helped to start a business — to open a shoes' atelier. First time I was ashamed, how a champion and to shoemakers moved… What will people say? But I quickly realized that it is necessary to feed the family. Moscow does not believe in tears…»
Karapetyan has a large and united family: beloved wife Nellie, daughters Lusine and Zarui and son Tigran. «Lusine works in a bank and Zarui on the TV channel «Russia Today». Young Tigran swims, specializes in sprint. We do forget our Armenia, it is for me as a mother. I try to go there as often as possible. What else? Write, please that I have a lot of friends, they are good people…»
I wrote, Shavarsh. Long and happy live to you, great man and champion. I'm sure that to my words gladly acceded all readers and those 20 passengers from Yerevan's trolley…
English version of the story: Serge Wodez/Photos: TASS, RIA Novosti