"Even today, more than 30 years after, the following questions resound with pain in my heart: what's happened, that a whole generation of remarkable Soviet sportsmen was deprived of participation in the Olympic Games-1984? What were the real circumstances jeopardized the idea of Olympism? And how our famous swimmers realized a decision of boycott of XXIII Olympics in Los Angeles? Let's come back in the history in order to answer to all those questions…"
Text: Nail Zabarov
It was 1980 in the middle of the Cold war. American State department, initiated US Olympic committee and several National Olympic committees, took the decision to boycott the Moscow Olympics because of the fact that a year before Soviet arms forces entered in Afghanistan. 1983 fall — Soviet fighter brings a South Korean passenger airliner "Boing-747" in the Far East. Our media accused the Occident of provocations and spy's activity, and American president Ronald Ragan named USSR "Imperia of Evil". It seems that this confrontation was at apogee. But in 1952, at once after Korean War, and in 1960th in a period of Caribbean and other crises, an idea of boycott Olympic Games never was backed in USSR, as well in USA. So way in this case Soviet authorities decided in replay of American boycott of Moscow Games by such radical manner?
Between others exists a sporting apparatchik's version. According to declaration of Vitaly Smirnov, long-term President of Soviet and then of Russian Olympic Committee, a member of International Olympic Committee, in this tense situation an unseemly role was plaid by Marat Gramov, being at this time a chairman of Soviet Sports' committee. In the beginning of 1984 delegation of Sports' committee visited USA, acquainted with Olympic sites in Los Angeles, chose a campus for Soviet team in Olympic village. Everything was developing under plans of preparation to main competitions of four-year period. But Summer Games-84 took place after Winter Olympics in Sarajevo, where we lost them to Eastern Germans. It was a total flop! Gramov looked awful. He clearly understood, that a second failure in a row (general first place in Los Angeles was unreal for us) would cost him his big post. Gramov's anxiety was shared by his comrades in Central committee of Soviet Communist party. Finally, when was appeared a memo, signed by Soviet minister of foreign affairs, a Politburo's member Andrey Gromyko, Mr. "Net"(No in Russian, like that he was nicknamed in the Occident), concerning an impossibility of USSR's participation in Summer Olympic Games-84, it was unanimously accepted by all highest state and party's circles of Soviet Union.
The creasy Hysteria arose all Soviet media regarding all possible dangers waiting sportsmen from USSR and other socialistic countries during those Games. And under the order from authorities, representatives of Soviet sport, lowered their heads, in a conference hall of Olympic committee voted for boycott of Olympic Games-84. After a Big Brother the same actions were organised in all socialistic countries. Immediately start general preparation for the alternative sporting Games named, rather doubtfully, "Friendship-84". Vitaly Smirnov remembered a detestation of East Germany's swimmers, looking at him when he was decorating them by medals…
Memories of Vladimir Salnikov, double winner of "Friendship-84", regarding those events are the following.
Personal data:
Vladimir SALNIKOV born on the 21th May 1960 in Leningrad (USSR), 4 times Olympic champion, many times World, Europe and USSR champion and records holder of World, Europe and USSR in 400, 800 & 1500 m freestyle. Honoured Sports Master of USSR. Graduated from Swim club "Ecran" (Leningrad). Coach: Igor Mikchailovich Koshkin. From February 2010 President of Russian Swimming Federation.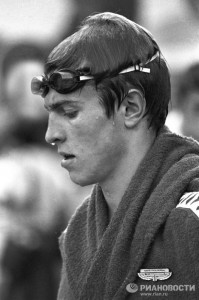 — I received this disgusting news being in a training campus of East Germans in Lindorfmark. The news was really killing. It was like to tug emergency break of rapid train on the move. This year I was a records-holder in all middle and long distances in crawl, I was in a great shape. A very difficult training work strayed behind… And they prosed us instead of Olympic races in Los Angeles so called "Friendship" competitions in Moscow. Yes, of course with all necessary decorations and bonus of Olympic level, but were they really an alternative substitute? This summer was circulating a certain proclamation on behalf of Soviet sportsmen about their indisposition to participate in the Olympic Games in USA, but I categorically refused to sign this paper. I was hold in swimming till Olympics in Seoul only by the fact that the results of swimmers in Los Angeles were poor than mine, and my personal Olympic thrift box was not enriched. That's way me with Marina (wife and personal coach of Salnikov in 1985-1988), we decided to work hard more four years in order to prove to everybody, that I was the best in the World.
Yes, it was like that. Our bosses were visiting training sites, announcing about "Friendship-84" organisation, especially underlining, that in the kitty were titles of Honoured Sports Master, bonus, respect and big, good-looking medals. Games in Los Angeles were in July, "Friendship-84" in August. Dmitry Volkov, double winner of those competitions, recounted, that one day during training session at the national training campus of Krugloye Lake, after retreat, one boy came to his room and told, that the coachs were watching in the conference-hall a video, smuggled by somebody from Olympics in Los Angeles. And all inhabitants of his room sneaked on tiptoe to the foyer in front of the conference-hall and through a door slit were quietly peeping at swimming away "their" Olympiad…
But the results of "Friendship-84" were really on the top World level. So, a new Planet record of Serguei Zabolotnov in 200 m backstroke was much better than the gold result of Olympic champion, American Rick Kairi. East German Sylvia Gerash became a best breaststroke swimmer of the season with a World record in 100 m, and Inna Kleber set up a World record in 100 m backstroke.
More 2 World records were established by Eastern German teams in relays 4×100 medley and freestyle. One Europe record was shattered by Tatiana Kournikova in 100 m butterfly and 2 others by our boys in relays 4×100 m freestyle and 4×100 m medley. Serguei Smiriaguin and Alexey Markovsky thrice celebrated their Victory day, twice — Dmitry Volkov, Robertas Zhulpa, Vladimir Shemetov, Serguei Zabolotnov, Alexander Prigoda, Serguei Kurbatov. Also champions of "Friendship-84" became Serguei Krasuk, Gennady Prigoda, Larisa Belokon', Tatiana Kournikova, as well as rising star of Soviet swimming Elena Dendeberova.
After the end of the competitions, as remember our swimmers, all assembled in Salnikov's apartment at Prospect Mira and were carousing there all night all. Two weeks later Soviet participants of "Friedship-84" received a fantastic at that time present: cruise on the Black Sea with a route Sukhumi — Varna — Odessa…
Finishing that season, many of "Frieedship-84" heroes left big-time sport, but there were others who participated and won next Olympic Games, but this is absolutely another story. Apropos, it was the last Olympics' boycott, because International Olympic Committee made tougher its sanctions, introducing a so called "zero tolerance". From now on, any country boycotting Olympic Games will take the risk of immediate disqualification. It works for the time being…
English version by Serge Wodes/Photos: RIA NOVOSTI and Mr. Swimy